Southern Water Services recommend Vesta Water Conditioners, we have worked with their products for many years and we are Vesta Partner Award Winners. That being said your family deserves high-quality water and we truly believe Vesta has the solution, after all, pure water is essential to our health, good for your home and pets and can save you money. We are a professional Vesta water conditioning dealer and we are trained and dedicated to providing the best solution to the most common water problems.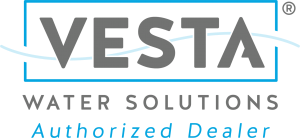 Each Vesta Water Conditioner is designed to specifically address the water quality issues that are unique to your home providing your family with outstanding water. The very best components, features, and state-of-the-art design go into every system providing you with years of high quality, conditioned water.
Dual media conditioners are designed to treat chlorine, hardness and iron-laden water. The Mid-Vortech™ tank maximizes the media efficiency with two separate media chambers in one tank.
The cut-a-way shows what lies beneath the tank jacket. Each chamber of the black mineral tank features a separate media to treat specific treatment needs.